divineAdmin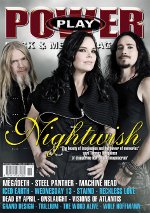 Issue 137 of Powerplay Magazine UK featured a review of Divine Ascension's debut release As The Truth Appears scoring it 8/10:
There are plenty of highlights on here…. In an already crowded genre, Divine Ascension have delivered a strong enough set of material to make them well worth hearing and keeping an eye on.
divineAdmin
World of Glass Promotions has released Volume 2 of their Compilation CD. It contains 60 tracks featuring some of the best big name and up and coming Female Fronted Metal Bands from around the world. Divine Ascension are very proud to be a part of this killer compilation. Click here to view the full tracklist. Head to the link here and download your 60 tracks for FREE and support Female Fronted Metal.
divineAdmin
Divine Ascension will be playing their first live date for 2012 at The Prague in Melbourne, Australia. The Facebook Event Page for the event can be found here.
UPDATE: Divine Ascension have just secured an earlier date that should suit fans more from Melbourne's north: February 24 at Musicland in Fawkner the Facebook Event Page for this new event can be found here. More dates are to be announced soon.