divineAdmin
Divine Ascension will again get the chance to share the stage with Melbourne and world renown power metal heavy weights Black Majesty. Both bands are in support of The Beast From 20,000 Fathoms who will be launching their debut album on the night.
Facebook Event Page: http://www.facebook.com/events/373720285995861/
divineAdmin
KISS OR KILL & METAL OBSESSION PRESENTS:
CLASH OF THE TITANS w/Ennui Breathes Malice, House Of Thumbs, Scar the Surface, Bronson, Internal Nightmare, Divine Ascension, Deliverance We Prey, Abreact and Dreams In Monochrome.
It is quite rare to see a show with so many potential headliners all on the same bill which is why the title "Clash of the Titans" fits this show perfectly. There are many different styles included the show with the likes of Prog Metal influenced Divine Ascension to the Metalcore influence of Bronson and Ennui Breathes Malice all the way to the brutality of Internal Nightmare. This show is going to give many Melbourne Metal fans a treat. Continue Reading
Facebook Event: http://www.facebook.com/events/290079967728452/
divineAdmin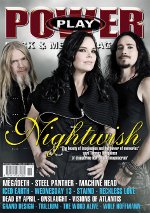 Issue 137 of Powerplay Magazine UK featured a review of Divine Ascension's debut release As The Truth Appears scoring it 8/10:
There are plenty of highlights on here…. In an already crowded genre, Divine Ascension have delivered a strong enough set of material to make them well worth hearing and keeping an eye on.